Events
UPCOMING EVENTS



Coming Soon!
PAST TALKS
March 17, 2023: Human-Machine Teaming: What Skills Do the Humans Need?
Speaker: Dr. Samantha Dubrow, Lead Human-Centered Engineering Researcher, The MITRE Corporation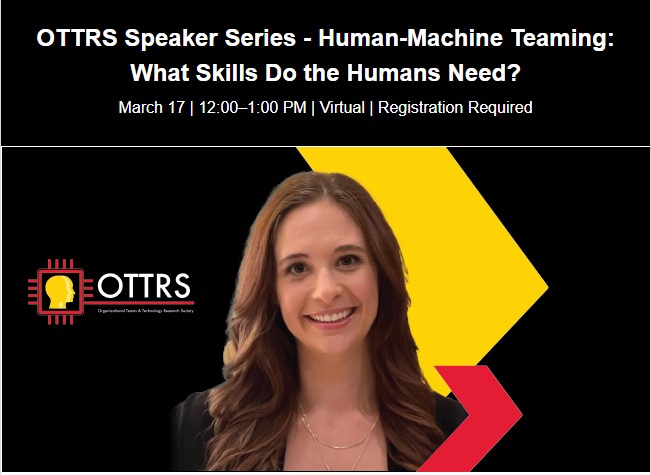 Abstract:
Over the last few decades, technology has become increasingly intelligent. Technology is no longer a passive tool that supports a single human in their work, but an active teammate that collaborates and learns as a critical entity of the team. To date, human-machine teaming research has primarily focused on the machines – how to design them, what their capabilities are, and how they can "learn." This presentation takes the opposite view, focusing on the importance of selecting and training humans to be effective human-machine teammates. The presentation addresses two questions: What unique skills do humans need to work well with machines as teammates, and how are those skills different from those required for effective human-human interactions? Details about the human traits and abilities that can be selected for and the human skills that can be trained to maximize human-machine teaming effectiveness will be discussed.
Bio:
Dr. Samantha Dubrow is a Lead Human-Centered Engineering Researcher at The MITRE Corporation. At MITRE, Samantha conducts applied research and development in Industrial-Organizational Psychology, teamwork and leadership, hybrid teaming, decision-making, human factors, user experience, human-machine teaming, and multiteam system collaboration management. She helps teams and multiteam systems across a variety of government agencies utilize technology to improve their teamwork processes and job performance. Samantha holds a PhD in Industrial-Organizational Psychology from George Mason University under Dr. Stephen Zaccaro. Her dissertation focused on team mental models and leadership transitions in ad hoc decision-making teams. During graduate school, Samantha was also involved with projects regarding multidisciplinary teams, multiteam systems, team leadership, simulation and training, and social network analysis.
February 24, 2023: Promoting Astronaut Autonomy in Human Spaceflight Missions (Seminar)
Speaker: Dr. Jessica Marquez, NASA, Ames Research Center

Seminar Abstract:
Mission operations will have to adapt for long duration, long distance human spaceflight missions. This change is driven mainly by the significantly different communication availability between Earth and space. As astronauts travel farther from Earth, the one-way communication latency increases; the amount of bandwidth will be limited; and there will be period of long and/or no communication. Currently, ground flight controllers collaborate and cooperate with astronauts in space to accomplish essential operational functions. Astronaut autonomy, i.e., the crew's ability to work more independently from mission control, will be a key enabler in future exploration missions. Over the last several years, the NASA Ames Human-Computer Interaction (HCI) Group has investigated various ways to promote and support astronaut autonomy in human spaceflight missions. Software prototypes are researched, designed, implemented, and assessed for their ability to enable astronaut autonomy. From integrated Internet of Thing for Space, advanced procedures interfaces, comm-delayed chats, and self-scheduling tools, the HCI Group has explored different aspects of astronaut autonomy. Specifically, the self-scheduling tool Playbook has been evaluated in analog extreme environments and onboard the International Space Station, successfully paving the way for future autonomous astronauts.
Bio:
Short Bio: Since 2007, Dr. Jessica Marquez has been working at the NASA Ames Research Center within the Human Systems Integration Division. As part of the Human-Computer Interaction Group, she has supported the development and deployment of planning and scheduling software tools for various space missions, including the International Space Station Program. She now leads the team that is developing Playbook, a web-based planning, scheduling, and execution software tool. Her work has led to supporting different NASA analog missions that simulate planetary missions and spacewalks. Dr. Marquez also is a subject matter expert for space human factors engineering, specifically in human-automation-robotic integration. She lends her expertise across different NASA research programs, like the Space Technology Research Institutes and the Human Research Program. She currently is the PI for the research project "Crew Autonomy through Self-Scheduling: Guidelines for Crew Scheduling Performance Envelope and Mitigation Strategies." Dr. Marquez has a Ph.D. in Human Systems Engineering and S.M. in Aeronautics/Astronautics from the Massachusetts Institute of Technology and a B.S.E. in Mechanical Engineering from Princeton University.